Walks around Backways Cove
5.9 miles/9.5 km - Moderate-strenuous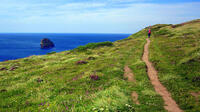 A circular walk to the remote sandy beach at Tregardock, returning along the coast path with panoramic views of Port Isaac Bay, through the wildflowers of Treligga Downs and via Backways Cove.
2.2 miles/3.5 km - Strenuous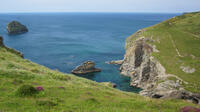 A short circular walk from the long, sandy beach of Trebarwith Strand to the rugged rocky cove at Backways in which sea foam tornadoes form in windy weather, and returning over the massive headland of Dennis Point with panoramic views of Port Isaac Bay.
4 miles/6.4 km - Strenuous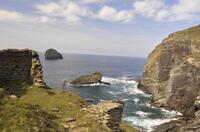 A circular walk in Trebarwith Valley to beaches and the coastal slate quarries of Backways Cove and Trebarwith Strand, and Dennis Point, overlooking the bay and point opposite where the ships moored to be loaded with roofing slates which were also brought down the valley on a road covered with beach sand to stop the horses being flattened by runaway carts.