Walks around Tregardock
5.9 miles/9.5 km - Moderate-strenuous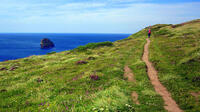 A circular walk to the remote sandy beach at Tregardock, returning along the coast path with panoramic views of Port Isaac Bay, through the wildflowers of Treligga Downs and via Backways Cove.
4 miles/6.4 km - Strenuous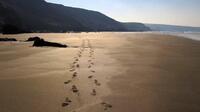 A circular walk from Tregardock, passing the long, remote sandy beach, to the ruins of the mediaeval manor of Dannonchapel, and includes one of the steepest and most spectacular sections of the North Cornish Coast path with vibrant wildflowers in spring and summer.
9.7 miles/15.6 km - Strenuous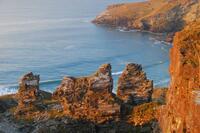 A one-way walk from Port Isaac to Tintagel along towering cliffs, past the long, sandy beaches of Tregardock and Trebarwith, the slate pinnacles of the coastal quarries and via the mediaeval cliff-top church to the castle of Arthurian legend.