Materials for Accommodation Owners
If you have holiday accommodation, it's likely that your visitors will enjoy doing some of our walks and discovering the hidden gems in your area. iWalk Cornwall is sometimes described as "307 reasons to come back to Cornwall" as we take pride in any way that helps to contribute to positive accommodation reviews and repeat bookings.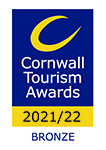 Our app avoids the hassle of you maintaining printed walk directions: the update mechanism built into the app means your visitors will always have the most up-to-date directions. The app also uses GPS tracking to look after them, warning them if they drift off-route so they can have a stress-free walk without getting lost even if their concentration lapses. All you need to do is to point your visitors to the app, and they can do the rest.
This app has made our Cornwall holiday. We have a puppy and have been able to taylor our walks for both the kids and the puppy. We have been on some amazing walks that we would not have known about without this app. I love the fact there is a "beep" when you hit the next instruction ! Awesome. I have recommended to everyone.
Brilliant like an angel on our shoulder. No way to go wrong.
This app is fabulous. So much work has gone into it. It is so explicit in its information that you cannot go wrong. It keeps you safe, interested and informed. Can't wait to get out for another walk x Gives you confidence to get out there. It is like having a walk with Steve Backshall and Bear Grylls. It feels like it's got it all sorted.
My 14 year old son and I set off for our first iWalk three days ago and have been on one every day since! We love how the app gives us little facts about the area and especially love to hear the little bleep so we know we are on the right track. The instructions are really clear and you are informed if you go off track. Can't recommend this app enough. Only wish we lived in Cornwall as I want to do all the walks now I've started!
Used this app on my holiday in Cornwall. So convenient for novice walkers. Also great that you can just buy the walks you need, rather than having to buy a whole book each time you go to a different area of Cornwall.
Makes exploring and discovering new places in Cornwall so easy! Will use again and again.
Used during a holiday to Cornwall. Easy to use and fantastic, thorough details.
We've recommended you to many of our guests and love the walks and routes you promote. Love your impressive stats in the post above!
A genius app! I love this app! I now want to come to Cornwall again just to discover more walks!
Our guests last week used @iwalkc and enjoyed some lovely walks.
We thought this would be our 5th and final visit for a while, however the discovery of iWalk Cornwall has opened up another round of discovery options.
Must Have App! We downloaded this for ideas for walks in Cornwall. We stayed 4 miles out of Newquay and it really made our holiday. Would give 10 stars if I could!
Our guests love your app & so do we 👍🏽.
Well done @iwalkcornwall Our guests love the app.
So good was it that owning this app was a contributing factor to my returning to Cornwall [from Australia] for a couple of walks in the Falmouth area this year.
Your app is recommended to all our visitors and they have all said how brilliant it is. Thank you x
Definitely returning to Cornwall. There are so many circular walks that I am just learning about. Thanks!
Always recommend your app to visitors, top notch
Brilliant made our holiday so special. We used it daily I would say it's a must for a Cornwall holiday.
Thanks so much, I have included them in our information pack and our guests have used them and were really pleased they have had some great walks.
Love your App our holidays in Cornwall wouldn't be the same without it😁
This is an absolutely brilliant App. We used every day on holiday. Well done was so absolutely spot on made our holiday really enjoyable and we felt we discovered so much about Cornwall thank you.
I've been using iWalk Cornwall for the last 3 years and it's the most useful app with loads of step by step walks to see the best of Cornwall. Whenever I am in Cornwall iWalk is always my first choice- it's never let me down yet.
I have to say the app is sensational Unbelievably accurate and easy to follow. You should be really proud of what you've achieved. I will indeed be using it whenever I'm down in cornwall.
This app will inform our holidays for years to come.
Recommended many times. Transformed my trips to Cornwall. Thank you - your app is a thing of beauty.x
I have five IWalk Cornwall holidays booked for this year......love the adventures, cant wait
Wow! What a great app, so easy and so accurate. Great clear directions, excellent map function and notes to area of walk really enhanced the enjoyment. Great work people, coming back to do another one just to use it again!
I have enjoyed 35 iWalks so far and have 12 more already downloaded ready for my next visits to Cornwall.
family holiday planners couldn't do better than to include a walk from you, especially Poldark fans wanting to tread in Ross's steps. Strongly recommended!
We used this app for the first time this holiday. We wish we had found it years ago. Excellent information, direction updates, amazing walks
Brilliant app, doing a different walk every day while on holiday, so easy to follow and not getting lost!
To me your love of the countryside/natural history/maritime history shines through with your commentary & descriptions. I really look forward to sharing some walks with my husband & planning what I'll (we'll) do next time in Cornwall
Just come back from a weeks holiday in Cornwall and this app absolutely made the break!
Back to Wigan for now.. but will definitely use this app again, hopefully later in the year. Wish we had something like this. I'm a bit hopeless with a map and this gave me confidence to get out into the wilds even letting me know when I wandered off route. Felt compelled to give feedback. Really appreciate your work and efforts.
You certainly made my holiday in Cornwall this summer!! Thank you so much!
Brilliant, I love this app for my guests and myself.
Thank you iWalk Cornwall, we have spent the summer in Cornwall and used 14 of your walks. If we were staying longer we would carry on and do them all eventually. This is simply the best walking app/guide we have ever used. Not once did it let us down. We didn't ever get lost because the interactive map makes it so easy to check your direction. We're heading North out of Cornwall now and we will miss you very much when we explore elsewhere. Well done, on producing such an informative, useful and trustworthy walking guide.
I can't praise this app highly enough for accuracy, faultless functionality and relevant information. It has transformed my visits to Cornwall and has NEVER let me down. Love it.
This app is fantastic! The farm owner where I am staying told me about it. So far I have done 2 walks which I would not have done as am on holiday alone. It has given me the confidence to do more and therefore see more along the north coast. Thank you again for improving my holiday and I will be using it in the other 2 areas I'm staying at.
Have loved doing some of your walks this week
My information folder has contained your lists for over a year now and guests find them very helpful. Thanks so much for the fabulous iWalk Cornwall, we really appreciate all that you do.
We did a few of your walks whilst on holiday and they were all fantastic, really impressed with how it works and will definitely do more of them.
I constantly recommend your app to our guests as we have a B&B at Berrio Bridge. I really admire what you're doing and you definitely deserve an award for your efforts. Cornwall is a magical place and you really illustrate that with your walks.
We are having the most wonderful time with these walks and this app. We did the Bedruthen Steps one 2 days ago, Port Quin to Port Isaac yesterday, and today we're off to do Trebarwith to Tintagel. Thanks so much. They're fabulous.
I recommended your App to visitors staying with me at Spring Cottage and they have raved about it, especially being able to walk safely over remoter parts of Bodmin Moor and coastal areas in the mizzle, knowing exactly where they are at any time! Well done!
I have used this for numerous walks and am utterly impressed with the research. Love the footnotes that pop up appropriately while walking. Wish I had more time in Cornwall to do more.
Thnx guys for making my stay absolutely amazing with your walks!
Fantastic - enhanced the holiday - good value for money
Our guests who enjoy walking and to whom we have suggested that they use iwalkcornwall have also been delighted and have been very appreciative that we have suggested its use.
I think that you have done an excellent job and have inspired my husband and I to visit Cornwall on a regular basis in order to complete all your walks.
Although we have a number of walk books and ordnance survey maps for our guests to use, most have preferred to use the app and have been delighted at the added benefits of distance and grading not to mention the attention to detail and not having to constantly refer to a map. The way in which the walks are written really do enable one to appreciate the whole journey.
Fantastic - enhanced the holiday.
I first heard of iWalk Cornwall, and used it, for my wife and I walking and exploring Cornwall in our spare time. We decided to put links in the guest book and our guests have loved it. Many have downloaded and enjoyed the fantastic structured walks on offer - a fantastic tool for walkers of all abilities
Excellent app. Very informative and accurate. Thanks for making our holiday easy.
Brilliant app. Made our Cornish holiday even better.
I think I would like to go to Cornwall, England. Check these hikes out Mary...
In my view your website is the definitive authority on walks in Cornwall, the Cornish Wainwright!
Excellent, accurate app! Perfect for holiday makers.
@iwalkc You always find to best walks in Cornwall. So pleased you came by us again with another walk.
@iwalkc this is brilliant thank you. Our guests will benefit.
Thoroughly recommend - the best Cornish walking guide available with over 200 walks all over the county
Resources for information folders
We've made a range materials available electronically below so you can print whichever best suit you to let your visitors know about our walks in your area.
1. An intro to the iWalk Cornwall app
A one-page intro to the app to explain what it's all about.
Resources for noticeboards
Website links
If you have a website, you may also want to link to our walks from your section for things to do, and we'll link to your website from our accommodation directory in return.
If you follow us on twitter, we'll also include your tweets in our accommodation owners twitter list.
Cheaper entry to castles with Cornwall Heritage Trust
You may also want to make your visitors aware that they can save money on admission to English Heritage sites in Cornwall by joining the Cornwall Heritage Trust. It's cheaper to get a family membership to CHT for a year than a day ticket to one of the more expensive EH sites and it gives access to all of them in Cornwall. It can all be done online and the electronic Paypal receipt used as proof of membership so it can be done "on the day".
Contacting us
If you'd like to talk to us, you can contact us via email or send us a facebook message.